The duty of a refrigerator is to always keep our foods cold and less prone to getting bad. Drinks and refreshments ought to be kept icy cold for thirsty situations. Some like their beer cold, and some like their strong drinks accompanied with ice. All these are fridge products that require extreme low temperatures. So what will cause the above not to happen? This excerpt will give a brief account of the causes of why a fridge may become a warm environment. In short, it is giving red flags to check in case its performance is getting low.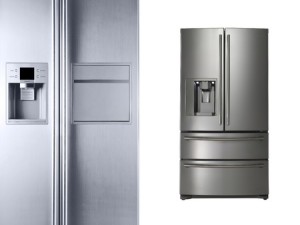 First the thermostat might not be set correctly. A thermostat is an automatic switch that turns the fridge on and off. Its functionality is always initiated in two instances; when a threshold low temperature is achieved, or when a threshold high temperature is reached. When the thermostat calibrations are therefore inclined to a high temperature, then the refrigeration unit will clearly be warm and performing its duties inefficiently.
Another instance is when the freezer box is iced up. A refrigerator uses a very volatile liquid in the process of freezing and cooling food. This liquid is responsible for consuming all the heat emitted by food items in the fridge. In a case where the liquid has frozen, then the activity of the refrigerator will be rendered null. This increases the warmth and its overall temperature.
A bad compressor is also another cause of a warm refrigeration device. If the compressor is working intermittently, it means that there is an abnormal movement of the volatile liquid. This can be the result of a loose wire or insufficient power supply. This problem cannot be easily identified, since it involves a lot of circuitry that are always hard to troubleshoot and its best to leave it for an appliance repair company to diagnose.
Another possibility is the door activity. The door seals might not be working well. They might have lost their grip in maintaining an isolated environment, therefore allowing the external temperature to mess up with the internal temperature. The door can also be faulty and as a result it will fail to close fully. This makes the refrigerator unable to maintain the right internal temperature, thus it becomes warm.
All in all, a fridge is a very delicate home appliance. Its under performance can be brought about by varying many instances that require keen attention. However, it's recommended to always follow full instructions given by the manufacturer on how to handle the refrigerator or freezer.  Click Here For More Refrigerator Service tips.
We provide fast same day service in Fulton County for all major brands including:
Amana
Samsung
Frigidaire
LG
Viking
Sub-Zero
Miele
Bosch
General Electric
Kitchenaid
Maytag
Magic Chef
Whirlpool
GE
Hotpoint
Kenmore
Jenn-air
Communities we service:
Palmetto, Dunwoody, Ocee, Johns Creek, Milton, Alpharetta, South Fulton, Arnold Mill, Campbellton, Chattahooch Hills, Rivertown, Fairburn, Union City, Jefferson, Sandy Springs, Loganville, Mountain Park, Atlanta, East Point, Hapeville, Hopewell, Brookhaven, Perimeter Center, Roswell, College Park, Red Oak